Invest in a Better Tomorrow
Where we fulfill our everyday life needs should be a healthy place. A place that is good for a better everyday life, business and the environment. That's why, to support LifeCentral, we've put in place a new Environmental Social Governance (ESG) program for 2030. We want our Full Service Centers to be low-carbon and less wasteful. We also want to bring positive socio-economic benefits to local communities. Sustainability, we believe, is crucial to attracting customers to our centers.
We've called our program A Better Tomorrow. It's based on three main areas – each with clear ambitions:
Reduce carbon emissuins with 30% for all m2 under Wereldhave's operational control
Zero waste to landfill and use of circular solutions
Partner with tenants and visitors to reduce carbon emissions and waste (net zero value chain by 2050)
100% of assets have action plans to mitigate physical effects of climat change
Double the surface of vegetation roofs and green spaces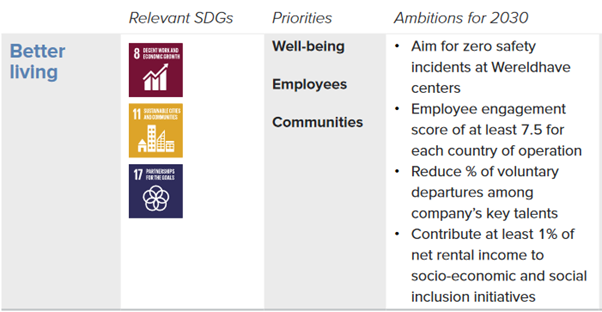 Aim for zero safety incidents at Wereldhave centers
Employee engagement score of at least 7,5 for each country of operation
Reduce % of voluntary departures among company's key talents
Contribute at least 1% of net rental income to socio-economic and social inclusion initiatives
We see sustainability as part of our 'value proposition' to retailers. Many of our tenants are already introducing more sustainable working practices – reducing waste going to landfill, for example, or phasing out single-use plastics.

Green Financing Framework
On 23th April 2020 Wereldhave launched their Green Financing Framework and secures new funding.
Dennis de Vreede, CFO of Wereldhave: "Sustainability has been integrated in Wereldhave's operations for years. With the energy transition ahead of us and our commitment to the Science-Based Targets initiative recently, this Green Financing Framework now allows us to integrate our financial structure with sustainability. The newly established Green Revolving Financing Facility immediately reflects how we can improve our financial structure within a sustainable context."

Go to 'Green Finance Framework' for more information >

Sustainable Supplier Code
The Sustainable Supplier Code defines standards for safe and healthy working conditions and environmental responsibility throughout our supply chain. It addresses human and labor rights, health & safety, corruption and environmental issues. The Code is based on the Ten Principles of the UN Global Compact, BREEAM-In-Use requirements, and the International Labor Organization (ILO) conventions. Requirements in this Code apply to the whole supply chain. We monitor implementation as part of our day-to-day interactions and regular evaluations with suppliers.

Go to 'Sustainable Supplier Code' >


Benchmarks
To help measure progress, we use three independent benchmarks: CDP (formerly, the Carbon Disclosure Project), Global Real Estate Sustainability Benchmark (GRESB) and Building Research Establishment Assessment Method (BREEAM).
GRESB: We score 93 on the GRESB rating. We've shown steady improvement over recent years. By 2025, our aim is to maintain our top 20% of GRESB reporting companies.
CDP Climate Change: Currently, we have an A- rating (Management Level). Our aim was to increase this to at least A- by 2025. In short, we met this goal 5 years earlier.
BREEAM: BREEAM-in-use is the most used building certification in Europe. 100% of our eligible centers are now BREEAM certified 'Very Good'.