Material Topics
We operate in a very complex environment. Economic uncertainty, new technologies, changes in consumer behavior – all have an impact on our business. We carry out a regular assessment of our environment – this helps us focus on the right topics: those areas where, potentially, we can create most value for our stakeholders and for society as a whole.
This 'materiality' assessment is updated every year. It takes into account the views both of Wereldhave and its external stakeholders. We publish the results online – and in our integrated annual report. The assessment covers economic & governance, social and environmental topics. These are assessed for their relevance to our strategy and their 'level of concern' for stakeholders. Our last assessment, conducted in 2019, put financial performance, customer satisfaction, occupancy rate, climate heating and building safety at the top of the list:
Wereldhave Material Matrix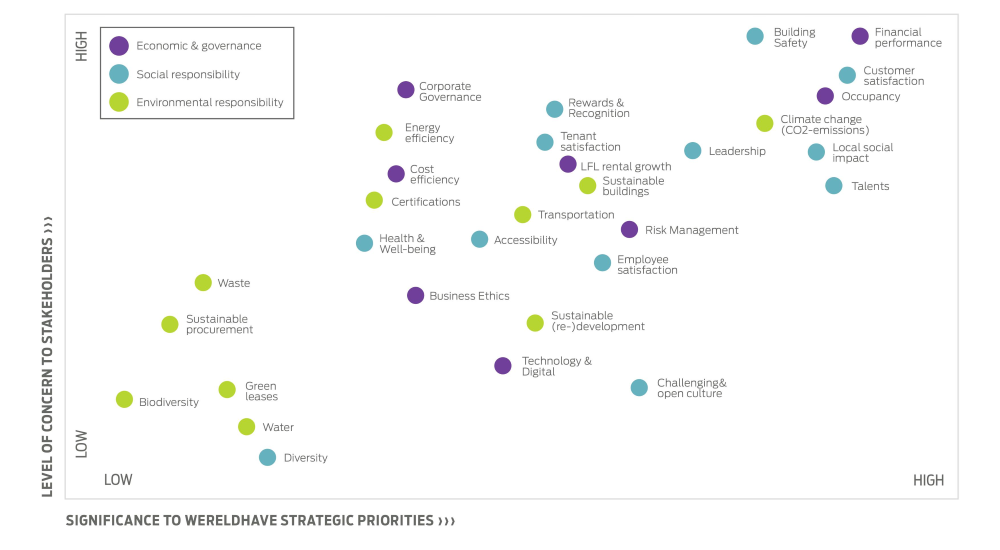 For more information on our latest materiality assessment, see our 2019 Integrated Annual Report.